In India, "natural agriculture" brings young people back to the land
|
DISTRICT NTR, India –
Seeking to spark interest in agriculture in his southern Indian region, K. Rajendra quit his job as director of a computer training institute five years ago and now uses YouTube videos and WhatsApp messages to promote "natural agriculture" among young people.
"Most farmers in this region are aged 60 to 80. Parents do not want their children to work in agriculture and ask them to migrate to cities," he said.
"Who will advance agriculture?" asked Rajendra, 42, as his staff stacked organically grown lentils, rice and spices on the shelves of his store in Andhra Pradesh's NTR district.
His work is part of a larger project in the state where around 800,000 farmers, mostly smallholders, have adopted natural farming – up from 40,000 when the state government launched a "d "community-managed natural agriculture" in 2015.
Natural farming avoids synthetic fertilizers and pesticides and involves using homemade or organic fertilizer, growing multiple crops instead of just one, and not tilling the land.
In the past, 'Rhythu Rajendra' or 'Farmer Rajendra', as he likes to be known, helped students realize their dream of getting a job as a software engineer, especially in the United States.
Today, he uploads videos from his natural farm to YouTube, runs more than a dozen WhatsApp groups with more than 100 farmers each to showcase the techniques, and encourages young people to try their hand.
Among the recruits, his 17-year-old son began helping him on the farm.
The Andhra Pradesh project aims to protect agricultural livelihoods by improving crop yields and farmers' health, while reducing expenditure on chemical fertilizers and pesticides and reducing greenhouse gas emissions.
Globally, agriculture accounts for around 17% of humanity's heat emissions, according to UN data for 2018.
The Asia-Pacific region is responsible for the highest emissions due to the use of synthetic fertilizers in rice cultivation, according to the Asian Development Bank.
The number of farmers declines as the climate warms
Across India, the number of farmers has declined overall in recent decades as their business has become more expensive and riskier. Many doubt that natural farming can work on a large scale, fearing a drop in production and income.
Agriculture remains the largest employer in the world's most populous country, employing 250 million people. But it represented 44% of total employment in 2021, up from 64% in 1991, according to World Bank data.
Climate change makes it difficult for agriculture to sustain itself as it affects harvests, fueling debt, migration and farmer suicides.
Nearly 11,000 farmers and farm workers committed suicide in India in 2021, according to government data.
Some farmers are trying to cope with losses from droughts and floods by using more chemical fertilizers to increase yields.
Others are joining green farming projects that have taken root in India. But experts say their scale and success depends on their ability to protect poor farmers' incomes.
Among the converts is Jalagam Syam, 34, who left his job in the pharmaceutical sector and returned to his parents' farm. He believes that stomach, skin and lung conditions common in the region are linked to agricultural chemicals.
"The soil and the air we breathe are already damaged. At this rate, there will be no food to eat in the future," he said.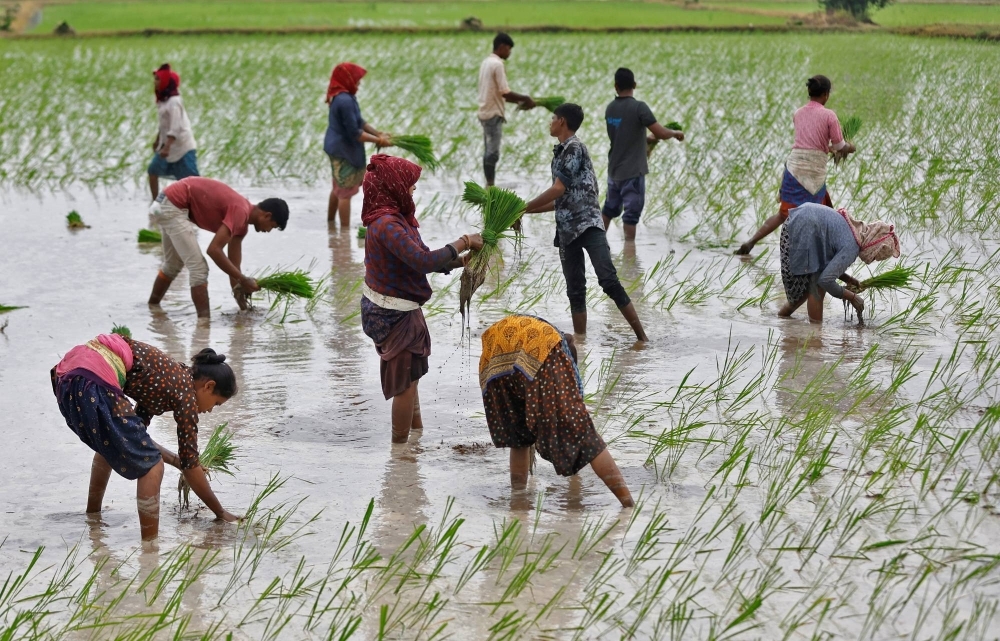 Farmers plant rice seedlings on the outskirts of Ahmedabad, India, in July. | REUTERS
But the transition to natural farming poses challenges in one of India's major rice-producing regions, which is also among the most vulnerable to climate change and where farmers' incomes are tied to this staple crop.
Sadhupati Srinivas Rao, 42, who grows cotton and paddy on an 80-acre farm in Chevaturu village, spent 1.6 million rupees ($19,220) a year on fertilizer over the past two years.
"I farm on rented land and the owner is looking for profit," he said, explaining why he had not switched to natural farming.
The green approach aims to "find a long-term solution to the farmers' livelihood crisis", said T. Vijay Kumar, who heads the state's natural farming project.
Eight years later, the Andhra Pradesh project aims to protect agricultural yields from erratic rains and extreme heat.
"I can't think of any farming method that is more relevant today, or in the context of what's going to happen in terms of climate uncertainties," said Vijay Kumar, who is also executive vice-president of a state-owned corporation responsible for empowering farmers. Farmers.
"We've made a start," he said.
Harvests fall then rebound
Officials say natural farming, if done well, can produce the same or better harvests than farming using chemicals.
Those who made the switch said their rice yield per acre fell in the first few years to 18 75kg bags, compared to more than 45 bags under chemical cultivation – but harvests then gradually resumed as health soil has recovered.
The drop in yields was offset by a rise in prices of natural products of up to 25% and significant savings from switching away from chemical fertilizers and pesticides, they added.
A tomato grower shows off his vines in India's southern state of Karnataka in July. | REUTERS
However, many large farmers find the natural agricultural processes of weeding and mixing manure to be labor intensive. Nearly 80% of farmers registered in the green approach own less than five acres of land.
And fertilizer use has continued to rise across India, increasing roughly tenfold from 1970 to 54 kg per acre in 2016. In Andhra Pradesh, it is now 100 kg per acre, authorities said.
Diversity of crops and organic fertilizers
Farmer P. Sabarinath's mother serves a traditional Andhra meal with rice in the center and a set of lentils, stir-fried vegetables, pickles and papadums arranged around it.
The plate reflects the Sabarinath farm, with the middle dedicated to paddy and the borders used for growing vegetables and fruits, in line with the key natural farming technique of crop diversification.
The land is kept fertile with a manure consisting of cow dung and urine, gram flour and jaggery, a mixture of sugarcane and other ingredients. The seeds are also spread in the fields after harvest and mixed with the soil.
Villagers spoke of the reappearance of earthworms after decades.
Sabarinath, 35, who closed his mobile phone repair shop seven years ago, turned to farming after becoming concerned about the deteriorating soil health on his family plot.
"Most young people who inherit land from their parents rent it out to other farmers and take a share of the crop income. I too never thought of taking up farming," Sabarinath said , standing in the shade of an almond tree.
He now shows off the chillies, guavas, pulses and rice he has grown on his solar-powered farm in Atlapragada Konduru village.
He receives young visitors there who have seen his videos on social networks and gives conferences in an association promoting natural agriculture. But he said the green approach had not been adopted in his own village.
K. Krishna Mohan, owner of a 50-acre farm in a remote village in Krishna district, said he did not want to try natural farming as the demand for these products is higher in cities.
In NTR district, where farmers have transplanted rice plants under the sun in ankle-deep water, natural farms remain rare.
State project leader Vijay Kumar said it would take a long time to persuade farmers to make the switch, with the need to adapt to a warmer world only an incentive.
"Farmers still view climate change as an act of God," he said. "I sell natural agriculture based on livelihoods and health. Climate resilience is a byproduct."