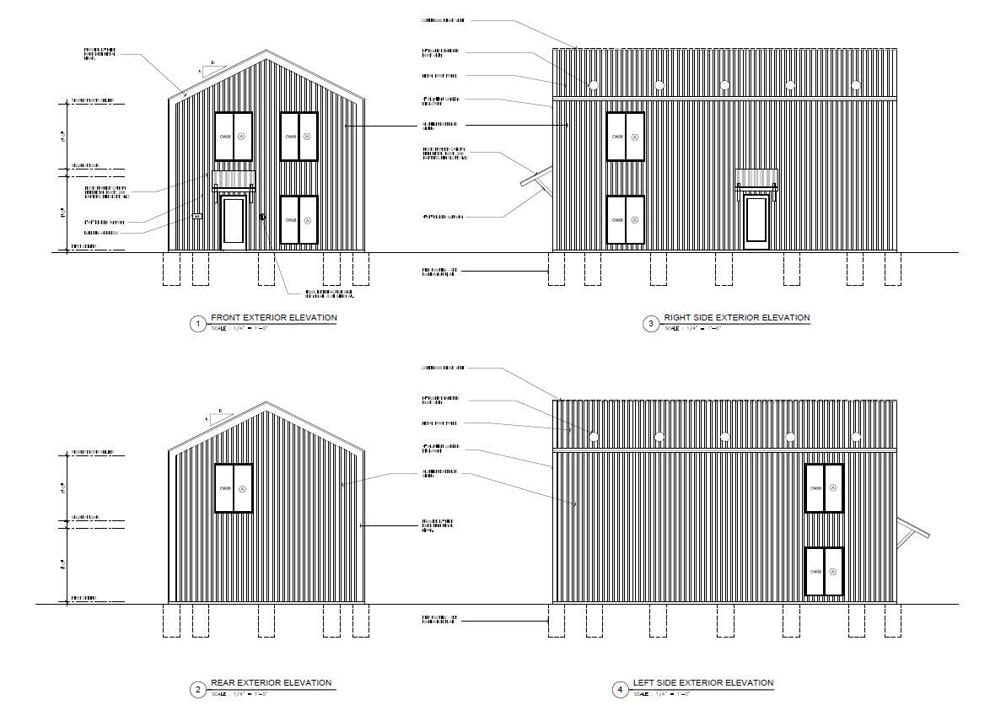 Plans emerge for new Larkinville retail
Three tenants have already been locked in for six new commercial buildings earmarked for Larkinville at 935 Seneca St.
"It was imperative that all of our retail customers be local, Buffalo-born businesses," said Derek Sullivan, owner of Buffalo Bungalo, the Elma company behind the project.
The artisan baker Artigiana will be an Italian bakery, butcher and sandwich shop where fresh bread, different types of sourdough focaccia, cold meats, fermented spreads and Sunday sauce will always be available. It will offer a catering menu including items such as meatballs and gravy, Italian sandwich boards, cinnamon roll boards and affettati, which are savory Italian meats.
The company makes semolina sourdough and charcoal sourdough for Lucia's on the Lake in Hamburg, as well as breads for the Plating Society, a private chef service based in Larkinville.
Artigiana is a feminine word for "artisan," which describes owner Shannon Wilson. This will be its first physical location.
A Southtowns coffee shop, 49 Coffee House and Eatery, will open its fourth and largest location. He roasts and grinds his own coffee and will serve breakfast and lunch. 49 Coffee has locations in Springville, Arcade and Holland with menus including items such as Berries and Chocolate Toast for $5, Veggie Hummus Wrap for $9.25 and Matcha Latte for $4.
Arrowhead Salon, an LGBTQ-owned, inclusive hair salon, has outgrown its space at 474 Seneca Street in Larkinville. When he moves into the new construction, he will have three times the space.
Buffalo Bungalow plans six two-story commercial buildings for vacant land at Seneca and Exchange streets on the east end of Larkvinville.
"We're creating a stunning Scandinavian vibe and style with these window designs that I don't think exists anywhere in Western New York," Sullivan said.
The work will be divided into two phases of three buildings each and construction is expected to last approximately five months.
"We hope to have the first three ready for early summer," Sullivan said. "Once the city issues our permit to start, we'll take care of it."
The second phase of construction is expected at the end of next year.
Welcome to Buffalo Next. This newsletter from The Buffalo News will bring you the latest on developments in Buffalo Niagara's economy – from real estate to health care to startups. Learn more at BuffaloNews.com.
Oxford Pennant to move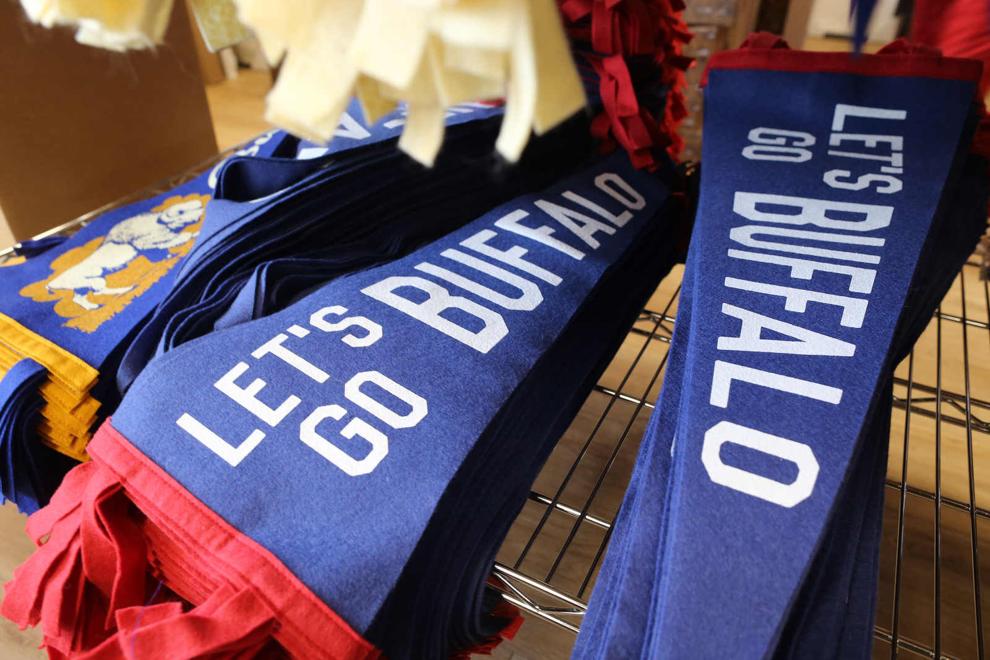 Oxford Pennant, the Buffalo designer and manufacturer of wool felt pennants, flags and streamers, is moving.
The maker of nostalgic pieces with a vintage look will close its store at 731 Main St. and consolidate operations at its factory down the street.
When Oxford opened her store in 2017, she employed fewer than 10 workers and a few sewing machines. Today, the company has 62 employees and a 12,000 square foot manufacturing facility at 810 Main St.
Oxford will operate during the holiday shopping period at its current location. Then, in early 2024, the company will consolidate at 810 Main St. and open an outlet store by summer.
The store will be open from 11 a.m. to 6 p.m. Wednesday through Saturday during the holiday season.
Hounds & Hops opens its doors at Seneca One
Hounds & Hops, a dog services business, opened on the plaza level inside Seneca One. For dogs, it offers grooming, daycare and curbside drop-off. For humans, it has food, beer and dog areas for socializing. In the spring, it will add training and boarding as well as indoor and outdoor dog parks.
Hounds & Hops is co-owned by Eden native Jarod Miller, an animal behaviorist who hosted the television shows "PetFinder" on Animal Planet and "Greatest American Dog" on CBS; and entrepreneur Bob Manley. The duo targets dog owners who live and work in downtown Buffalo.
Niagara Falls hosts Black Friday weekend at Jingle Falls
Niagara Falls will host free and low-cost vacation programs at locations across the city from November 24-26. There will be visits with Santa, life-size gingerbread houses, crafts, a tree lighting ceremony, horse-drawn races. horse-drawn carriage rides, a makers market, free scenic tram rides and much more.
This is part of a partnership between Destination Niagara USA, the City of Niagara Falls, Niagara Falls State Park and the Niagara Falls Culinary Institute. For a full schedule of events, visit JingleFallsUSA.com.
Harbor Freight Tools comes to North Buffalo
Harbor Freight Tools, a national retailer of tools and equipment, will open a new location at 2638 Delaware Ave. in Delaware Consumer Square.
He is aiming for a January opening. Harbor Freight has locations in Amherst, Cheektowaga, Hamburg, Niagara Falls, Lockport, Springville, Batavia and Dunkirk.
Winter Fest comes to South Buffalo
The South Buffalo Community Association will host Winter Fest, a program of holiday events running from November 25 to December 9.
Small Business Saturday, Nov. 25, will begin at noon at the Buffalo Irish Center, 245 Abbott Road, and there will be free trolley rides, Santa, reindeer and crafts.
South Buffalo Restaurant Week runs December 2-9. Shop South Buffalo takes place December 8-9, featuring a Winter Window Contest and Ugly Sweater Pub Crawl. For a complete schedule of events, visit SouthBuffalo.org.
THE LAST
What is the latest news on Buffalo Bills stadium construction project?
The new Vive shelter is ready to open.
Union workers at the General Motors engine plant in the town of Tonawanda voted against an agreement in principle on a contract.
A community group continues to criticize KeyBank Lending Practices.
Ellicott Development brings back Locker room project.
Lactalis seeks $1.2 million in tax relief for the latest investment project.
A quartet plans a new apartment project on Abbott Road in South Buffalo.
A Clarence company is acquisition of an adult care facility in Medina.
Renovations at closed Buffalo school provide veterans housing.
Where will the local car factories be? adapting to a world of electric vehicles?
Governor Hochul has formed a new health commission. What will he do?
Buffalo Bisons seek state money for stadium improvement.
Windsong Radiology was impacted by a big data breach.
A Wheatfield electronics company wants tax breaks to be extended.
Evans Bank sell your insurance business.
A new commercial space is planned near Larkinville.
The GM engine plant located in the town of Tonawanda is get a big investment, with big implications for the future.
JC Penney is continue to fight eminent domain taking place in Amherst.
ICYMI
Five reads from Buffalo Next:
1. Flexlume is excited about its new house Lackawanna.
2. A high-priced sale has landowners around the new Buffalo Bills stadium hoping they, too, can sell for a lot of money.
3. Hideaway Bay Resort brings Luxury "eco-resort" on Lake Erie Beach.
4. The long abandoned Trico Products building in downtown Buffalo is taking shape little by little.
5. Why Buffalo Niagara's job market doesn't appear as vulnerable as was the case a month earlier.
The Buffalo Next team gives you insight into the region's economic revitalization. Email tips to buffalext@buffnews.com or contact Buffalo Next editor David Robinson at 716-849-4435.
Was this email forwarded to you? Sign up to receive the latest news in your inbox five days a week.
Email tips to buffalext@buffnews.com.